Everyone's hand is a little bit different. Fingers can be long, short, thin or wide; they can be spaced close together or far apart. Rings can always be resized for a perfect custom fit, but there are certain ring designs that flatter certain types of fingers, in the same way that certain dress patterns compliment certain figures. If you're looking for a ring that will perfectly embellish your finger, follow these helpful tips for finding a ring that suits your hand.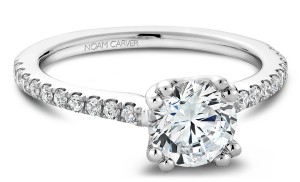 Short Fingers
If you have short fingers, your ideal ring should lengthen your hand. Narrow-width bands are the best way to create that elongated shape. Marquise, oval or pear-shaped centres are more elongating than rectangular or square centres. This Noam Carver white gold ring is the perfect example of flattering ring for women with short fingers.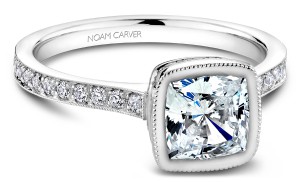 Long, Slender Fingers
Many different styles of bands and stones will be flattering on long, slender fingers. The engagement ring or wedding band you choose is really dependant on your personality, so find a ring that suits your unique style. Rings with a princess-cut centre diamond, such as this Noam Carver engagement ring, are a particularly strong and dynamic choice for people with long, slender fingers.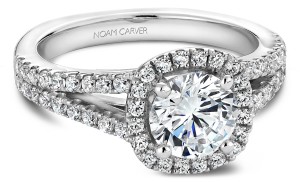 Wide Fingers
Slender bands may accentuate the width of your fingers, so you may want to avoid them if you have wide fingers. A split-shank band can help to elongate the finger, drawing the eye along the length of the finger rather than focusing on its width.
Knuckles
If you're trying to draw attention away from your knuckles, a ring is the perfect way to re-shift the visual focus of your hand. Wide bands and ornate centres are a great way to pull the eye along your finger away from your knuckles. Let the ring become the centrepiece of your hand, and all the other features of your finger will fade into the background. This Noam Carver round-cut diamond ring with a double-cushion halo creates the perfect eye-catching focal point.
Finding the most flattering ring for your finger can be a challenge. It's important that your ring be proportionate and attractive without compromising your personal style. If you're looking for your dream engagement ring, wedding band, or anniversary ring, you'll find it in CrownRing's wide range of styles and designs.